Rovinj, Poreč, Vrsar and Pula, 6.-16. April 2023. For the tenth year in a row, Rovinj hosted a handball and football tournament that gathered over 2,500 children and youth from Croatia and the region as part of the "Youth Movement Power" project. It is a socially responsible and educational project that encourages children to develop social skills and healthy habits through sports and educational activities. The founder of the project is the Association ''HEALTH LIFE ACADEMY'', and the goal is the international popularization of sports activities and the development of general awareness of the importance of a healthy lifestyle from the oldest age.
The basic components of the Youth Movement Power project are: Croatia Trophy handball tournament, Croatia Trophy football tournament, Special Power League – a sports league for children and people with developmental disabilities, and the Adria Bowl flag American football tournament.
The Croatia Trophy handball tournament brought together 75 teams from all over Europe who met from 6 to 10 April 2023. competed in a total of 7 categories: Boys in 2006, 2007, 2008, and 2010 and Girls in 2008, 2010, and 2012. The tournament was held in halls in Rovinj (Gimnasium Hall, Valbruna Hall), Poreč (Žatika Sports Hall) and Vrsar (Saline Hall).
The order of the handball tournament by category is as follows:
Girls 2012
ŽRK Koka Varaždin A
MGA Fivers Wien
ŽRK Koka Varaždin B
RK Sevnica
Girls 2010
ŽRK Koka Varaždin
RK Zelene doline Žalec
ŽRK Z'dežele Celje
RK Slovenj Gradec
Girls 2008
ŽRK Z'dežele Celje
BT Fuchs
RK Sevnica
RK Slovenj Gradec
Boys 2010
RK PPD Zagreb A
RD Koper
RK PPD Zagreb B
RD Herz Šmartno
Boys 2008
RK PPD Zagreb
SG Handball West Wien
RD Herz Šmartno
JANO Filder Akademie
Boys 2007
HC Fivers WAT Margareten
RK Metković-Mehanika
RK Dol TKI Hrastnik
SG Handball West Wien
Boys 2006
PPD Zagreb
RD Herz Šmartno
HC Fivers WAT Margareten
SRK Zrinjski Mostar
The Croatia Trophy football tournament brought together 24 teams that met from 10 to 13 April 2023. competed in the category: U9, U11 and U13. The tournament was held at the football fields of Valbruna in Rovinj. The order of football teams by category is as follows:
U9
NK Istria 1961
NK Novigrad
GNK Dinamo
NK Pomorac 1921
U11
HNK Hajduk Split
NK Rovinj
OŠ GNK Dinamo
NK Rudar Labin
U13
NK Pomorac 1921
ND Primorje
NK Jadran Poreč
NK Rovinj
In addition to the handball and football tournament on 11.-12. April, the 18th edition of the project Special Power League – a sports league for children with developmental disabilities was held. This year, as part of the SPL, the "European Special Power Cup" for children with developmental disabilities was held for the first time and gathered over 200 participants from 13 national and international clubs who played football and spent time having fun and socializing on the fields of Valbruna. The project was supported by the Croatian Football Association (HNS), the Croatian Handball Association (HRS), the Mateo Kovačić Foundation and numerous partner associations and companies. The special guest of this year's edition is Fundación Barça Genuine, a football team with intellectual disabilities that operates under the high patronage of FC Barcelona.
The clubs that participated in the SPL tournament are NK Istra 1961 SPT, NK Sloga Čakovec SPT, NK Slaven Belupo SPT, GNK Dinamo SPT, NK Stubica SPT, HNK Hajduk SPT, HNK Rijeka SPT, NK Osijek SPT, GOŠK Dubrovnik SPT, FC Barcelona, Munich 1860, Team Macedonia FK Karposhovo.
The participants of the meeting were members of the following associations and institutions: Sports Association Veliko srce from Koprivnica, Association Latice, Association for Autism Pogled Nedelišće, School of Education Pula, Bili tići – sports association for people with Down syndrome from Split, Association Sindrom Down 21 Rijeka, Association Sindrom Down 21 Zagreb, Education Center Krapinske Toplice, Education Center "Ivan Štark" Osijek and partner organizations from Spain, Germany and N. Macedonia.
The basic idea of the project is to motivate children with developmental disabilities to actively integrate into society through sports activities. The project was designed based on the fact that children with developmental disabilities do not have the opportunity to adequately engage in sports. The project is aimed at positive changes that promote the importance of physical education, with the aim of encouraging the development of an active everyday life in school-age children. Sport brings people with similar disabilities together, allows them to exchange experiences and make new friends, and increases understanding of the difficulties they face on a daily basis.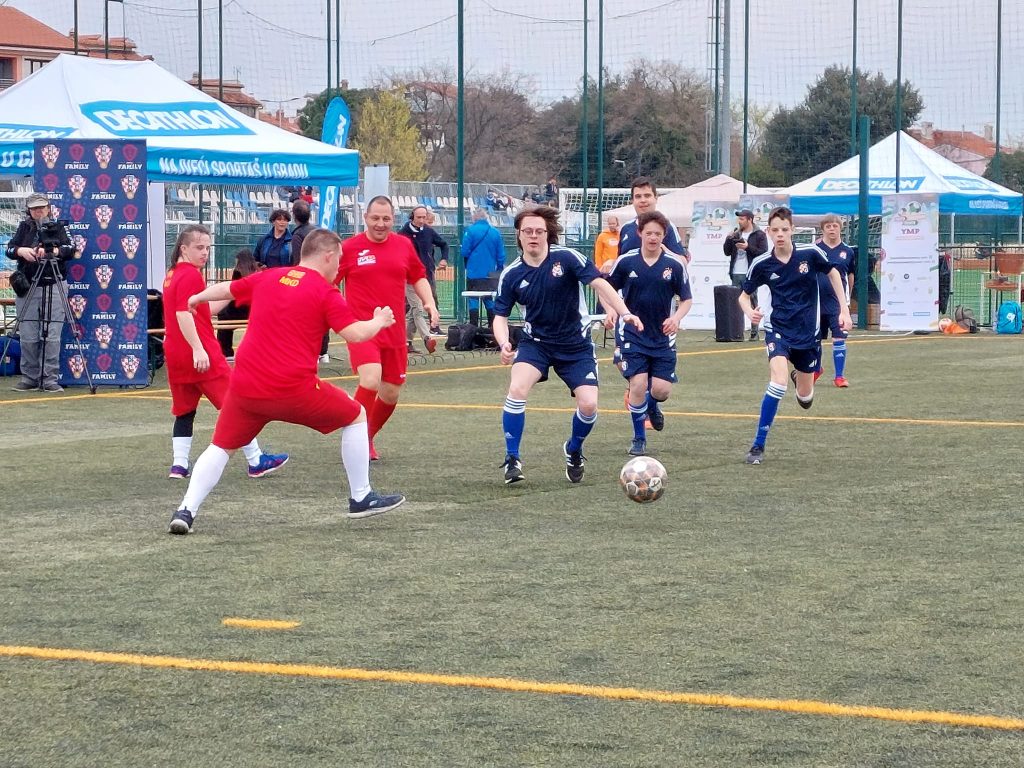 During the European Football Special Power Cup, on April 11, the ''Rovinj Teqball Roadshow'' took place. Teqball is a soccer-based sport, played on a specially curved table, that is attracting a new generation of athletes and amateur enthusiasts.
As part of the project, the 2nd edition of the Adria Bowl was successfully completed in the co-organization of the American football club Split Sea Wolves, American flag football tournament, which took place on 14-16 April 2023. and gathered the following European teams: Ajdovšćina Gladiators (Slovenia), Arona 65ers (Italy), Black Bucks UniBern (Switzerland), Black Miners Velenje (Slovenia), Heidelberg Hunters (Germany), HirschBach Stags (Austria), Inđija Indians (Serbia), KAF Sarajevo Spartans (BIH), Kočevje Wild Hogs (Slovenia), Kranjski Jazbeci (Slovenia), Kumanovo Skeletons (Sj. Macedonia), Murska Sobota Storks (Slovenia), Pribram Bobcats (Česká), Raiders Roma (Italy), Refoli Trieste ( Italy), SG Schorndorf Power Puffins (Germany), Split Sea Wolves (Croatia), Zagreb Patriots (Croatia), Aemme Buzzards (Switzerland), Novi Beograd Orlovi (Serbia), Garrosa Mamuts (Spain).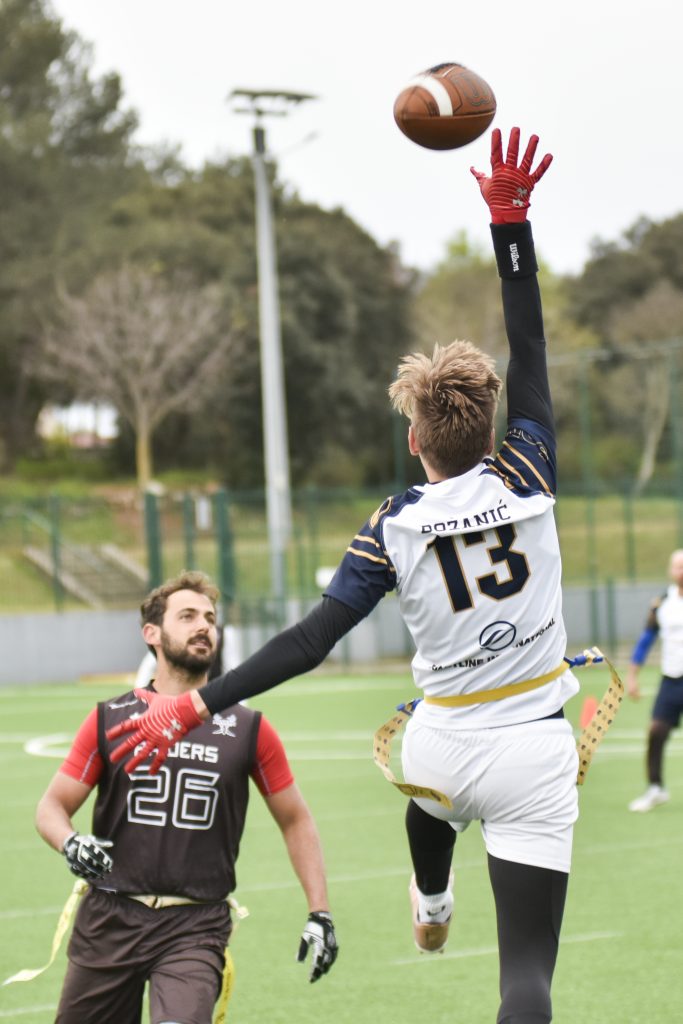 This year's sports and educational meetings "Youth movement power'' which have been successfully held for the 10th year in a row, were supported by: UEFA, EHF, HNS, HRS, HOO, HSAN, HTEQS, Mateo Kovačić Foundation, Istrian County, TZ Pula, TZ Poreč, The sports community of the city of Pula, the City of Pula, the City of Rovinj, HBOR, and the companies Maistra, Valbruna sport, Decathlon, Ford, Bauerfeind, Konoba Veruda, Vinarija Matošević and ATI.